Koppari
Polttolinja 10, 40520 Jyväskylä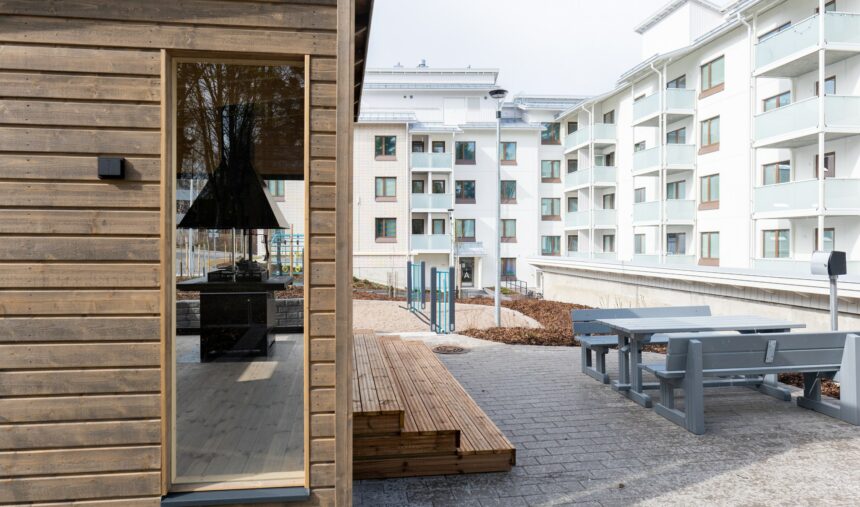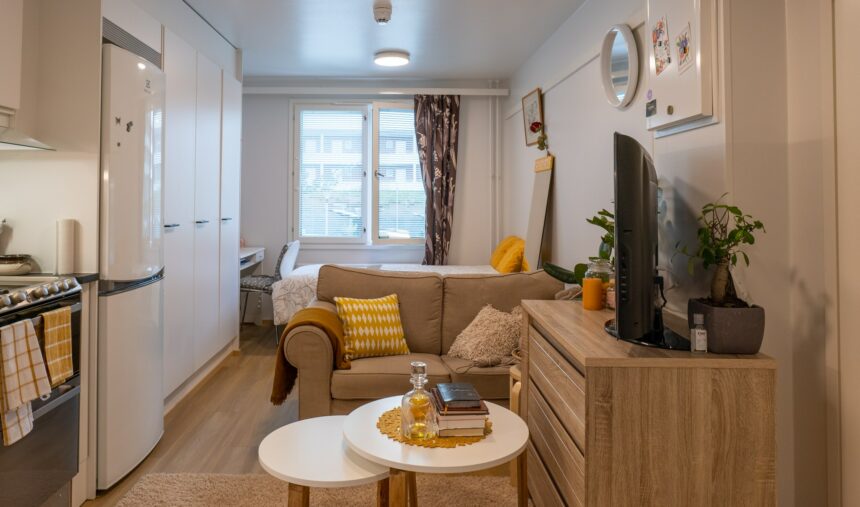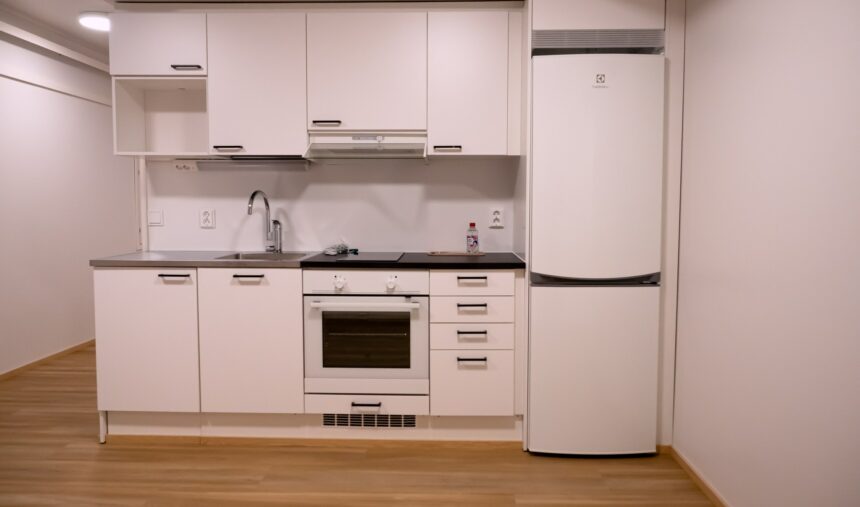 Kitchen
Two-room apartment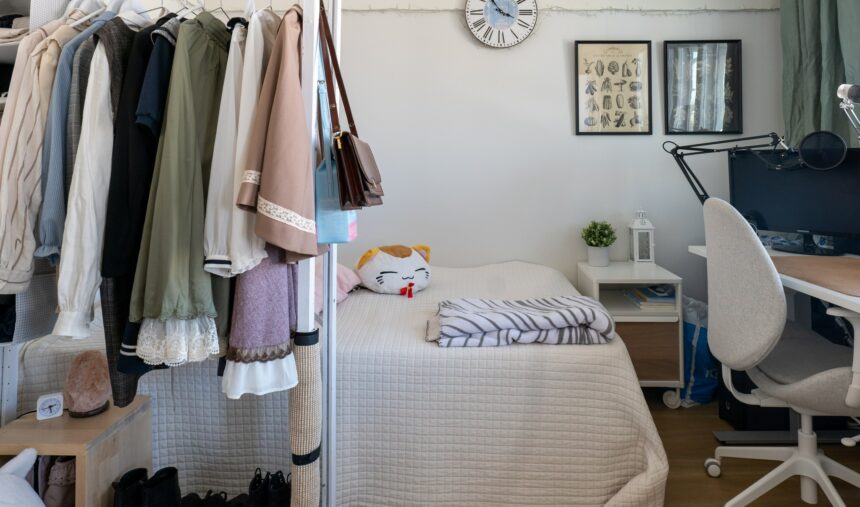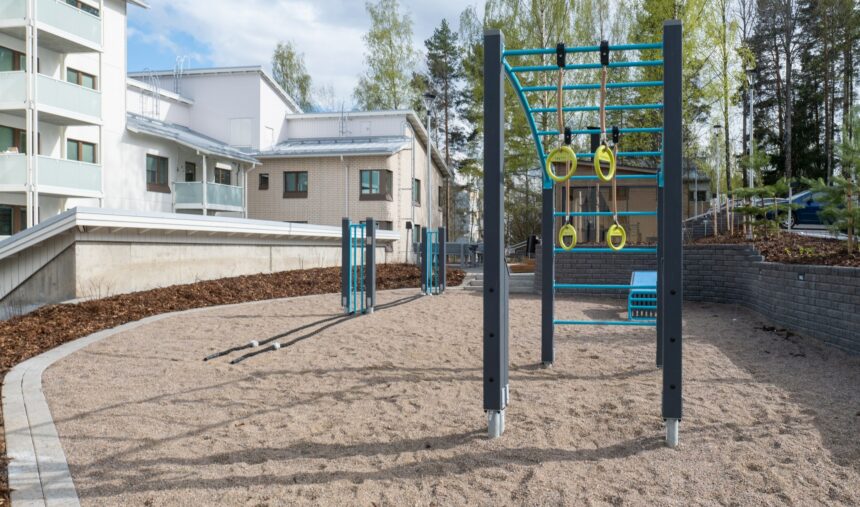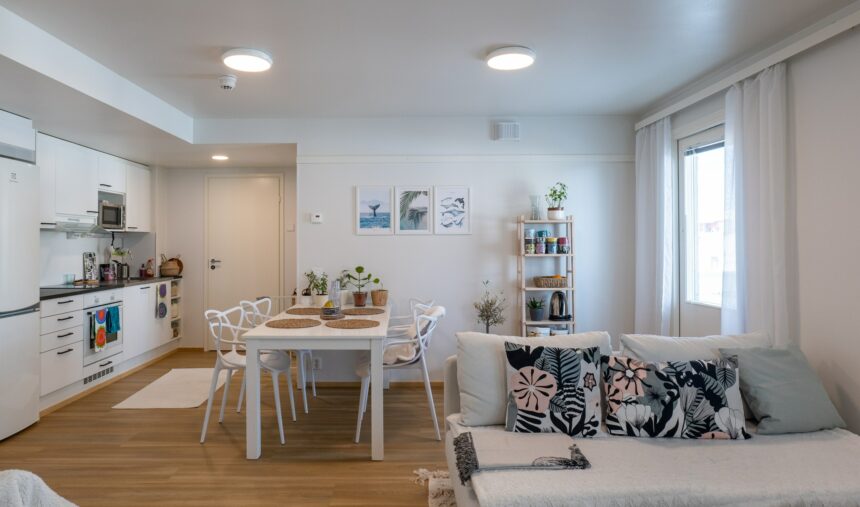 Home near the university and city centre
Koas Koppari completely renovated unique studios and one-bedroom apartments welcomed the new residents from 1.1.2022.
Koas Koppari is located right next to Kuokkala center services and within a ten-minute walk you will also find magnificent lake views and scenic walking trails.
Koppari is ideal for those who appreciate the proximity of services and enjoy sports, as only a short walk away you will find e.g. Yrttisuo family park, Kuokkala sport services and walking route around the lake called Rantaraitti.
Student life is facilitated by fast access to the Ylistö campus and the proximity of grocery stores.
Apartment equipment :
Ceramic stove
Place for 40cm washing machine
Place for 45cm dishwasher (apartments 51,59,67 and 75 are equipped with small Candy-dishwasher)
Fridge/ freezer
Vinyl flooring
Bathroom walls and floors are tiled
Apartments equipped with venetian blinds
Elevator: In entrance B and C
Included in rent:
Water
Electricity
Heating
Laundry
Internet
Cable TV
Distances:
Bus stop 350 m
Jyväskylä centre 2,5 km
Ylistö campus 1,7 km
Mattilanniemi campus 2,4 km
Jyväskylä Christian institute 1,1 km
Grocery store 250 m
Kuokkala center 250 m
Yrttisuo family park 800 m
Rantaraitti walking route 850 m
Gym TopShape 550
Kuokkala Graniitti sport services 650 m
Compare apartments in this location
Size
Rent
Apartment type
Room configuration

31.5 m²

481 €/mo.

Studio

A1

1r+k+b

30.5 m²

447 €/mo.

Studio

A2

1r+k

23.5 m²

385 €/mo.

Studio

A3

1r+k+b

31.5 m²

481 €/mo.

Two-room apt.

A4

2r+k+b

34 m²

520 - 535 €/mo.

Studio

A5, A10, A15

1r+k+b

31.5 m²

486 - 496 €/mo.

Studio

A6, A11

1r+k+b

30 m²

444 - 452 €/mo.

Studio

A7, A12

1r+k

23.5 m²

389 - 396 €/mo.

Studio

A8, A13

1r+k+b

31 m²

478 - 488 €/mo.

Two-room apt.

A9, A14

2r+k+b

52 m²

706 €/mo.

Two-room apt.

B16

2r+k+b

44.5 m²

639 €/mo.

Two-room apt.

B17

2r+k+b

21.5 m²

355 €/mo.

Studio

B18

1r+k

45 m²

653 - 672 €/mo.

Two-room apt.

B19, B25, B31, B37

2r+k+b

21.5 m²

369 €/mo.

Studio

B20

1r+k+b

21 m²

347 - 357 €/mo.

Studio

B21, B27, B33, B39

1r+k

35.5 m²

542 - 558 €/mo.

Two-room apt.

B22, B28, B34, B40

2r+k+b

33.5 m²

512 - 527 €/mo.

Studio

B23, B29, B35, B41

1r+k+b

21 m²

350 - 357 €/mo.

Studio

B24, B30, B36

1r+k

21 m²

364 - 371 €/mo.

Studio

B26, B32, B38

1r+k+b

44.5 m²

639 €/mo.

Two-room apt.

C42

2r+k+b

44 m²

632 €/mo.

Two-room apt.

C43

2r+k+b

19 m²

323 - 335 €/mo.

Studio

C44, C52, C60, C68, C76

1r+k+b

24 m²

356 €/mo.

Studio

C45

1r+k

28 m²

415 €/mo.

Studio

C46

1r+k

18.5 m²

314 - 327 €/mo.

Studio

C47, C55, C63, C71, C79

1r+k+b

28 m²

437 - 449 €/mo.

Studio

C48, C56, C64, C72

1r+k+b

25.5 m²

382 - 393 €/mo.

Studio

C49, C57, C65, C73

1r+k

22 m²

377 - 389 €/mo.

Studio

C50, C58, C66, C74

1r+k+b

18.5 m²

306 €/mo.

Studio

C51

1r+k

18 m²

300 - 306 €/mo.

Studio

C59, C67, C75

1r+k

23.5 m²

370 - 381 €/mo.

Studio

C53, C61, C69, C77

1r+k

27.5 m²

412 - 424 €/mo.

Studio

C54, C62, C70, C78

1r+k

44 m²

632 €/mo.

Two-room apt.

D80

2r+k+b

44 m²

632 €/mo.

Studio

D81

2r+k+b

24.5 m²

378 €/mo.

Studio

D82

1r+k+b

23 m²

359 €/mo.

Studio

D83

1r+k

44 m²

638 - 657 €/mo.

Two-room apt.

D84, D90

2r+k+b

44 m²

638 - 657 €/mo.

Two-room apt.

D85, D91

2r+k+b

29.5 m²

442 €/mo.

Studio

D86

1r+k

34.5 m²

527 - 543 €/mo.

Two-room apt.

D87, D93

2r+k+b

24.5 m²

382 - 413 €/mo.

Studio

D88, D94

1r+k+b

23 m²

362 - 373 €/mo.

Studio

D89, D95

1r+k

29 m²

447 €/mo.

Studio

D92

1r+k
Service company contact information:
Jyväskylän HuoltoSilta Oy
Hämeenpohjantie 13
40520 JYVÄSKYLÄ
tel. +358 400 917 722
After 4 pm and during weekends tel. +358 207 351 610