Kankaantorni
Paperitehtaankatu 5, 40100 Jyväskylä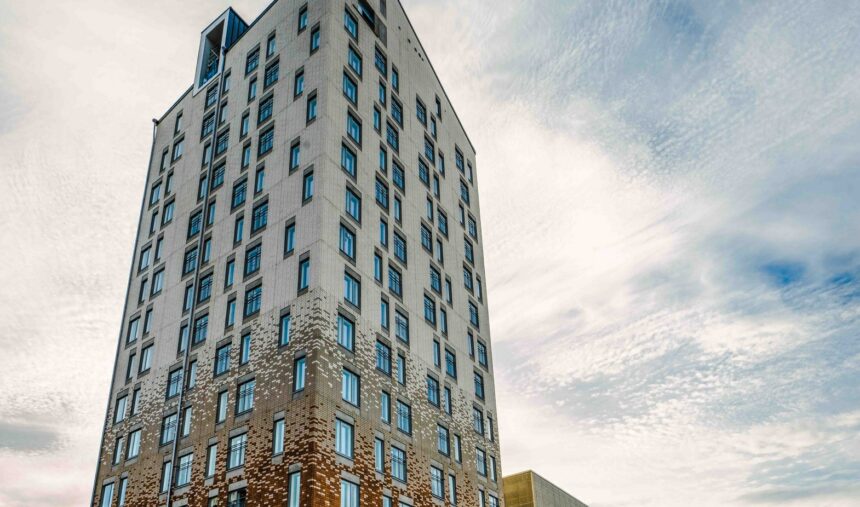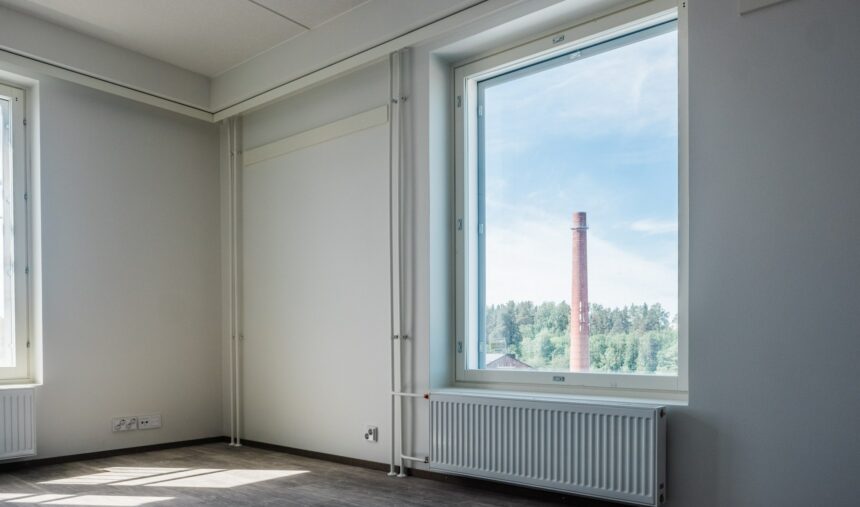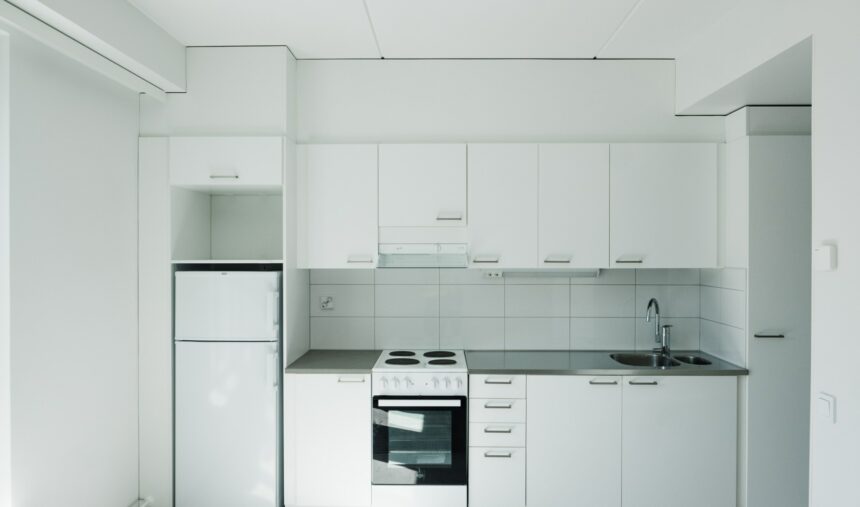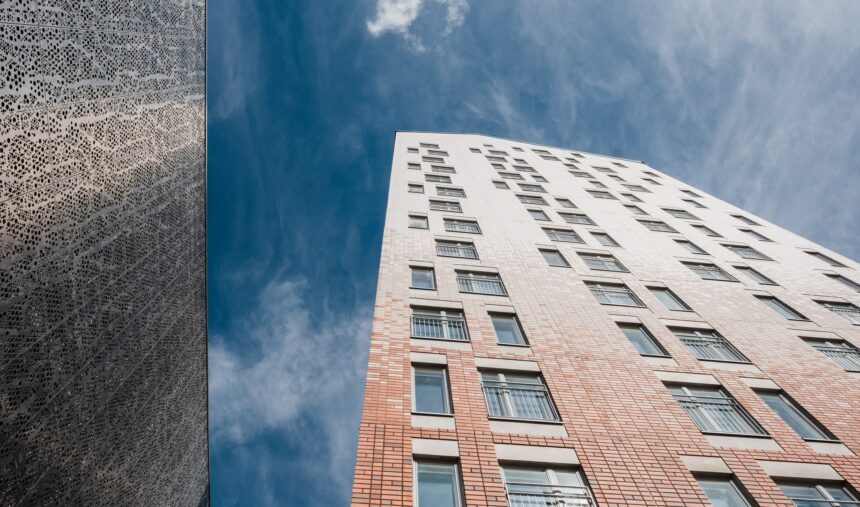 Student-centred living with a magnificent scenery
The apartments of KOAS Kankaantorni, completed in the autumn of 2018, are popular studios and one-bedroom family apartments. This impressive 16-storey building is the highest residential building in Jyväskylä. Sauna facilities are located on the top floor as well as a terrace from where all residents can enjoy a magnificent view over the atmospheric environment of the former Kangas paper mill.
Kankaantorni is one of the first buildings in the new Kangas housing area and it was specifically designed for students. For example, a spacious elevator makes it easy for students to move in and out, and there is plenty of storage room for bikes. The city centre is within easy reach and both indoor and outdoor sports activities are only a few hundred meters away.
P-Pergamentti is located in Kangas area. Parking  inquiries Jyväs-Parkki Oy.
Apartment equipment:
Place for washing machine 45 cm ( except on apart. 9,10,17,18,25,26,33,34,41,42,49,50,57,58, 65,66,73,74,81,82,97,98,105,106,113,114. These have place for 60cm)
Place for dishwasher 45 cm
The fridge includes a small freezer compartment.
Vinyl flooring
Bathroom walls and floors are tiled
Apartments equipped with venetian blinds
Ceiling height 2.6 metres, 2.3 metres in bathroom and hallway
Included in rent:
Water
Electricity
Heating
Laundry
Internet
Cable TV
Distances:
Bus stop 400 m
HUMAK University of Applied Sciences 600 m
Gradia Jyväskylä 850 m
Jyväskylä City Centre 1.2 km
JAMK Rajakatu Campus 1.5 km
Seminaarinmäki Campus 2.4 km
Mattilanniemi Campus 2.6 km
River Tourujoki 500 m
Local food shop 950 m
Gym CrossFit Jyväskylä 350 m
Sports center Liikku 850 m
Puistotori tennis court 800 m
Kangasleikki playground 300 m
Puistotori children's play park 850 m
Daycare centre Tapiola 1.1 km
Puistokoulu school 1 km
Tuomiojärvi beach, disc golf course and volleyball courts 1.4 kmkm
Compare apartments in this location
Size
Rent
Apartment type
Room configuration

36 m²

571 €/mo.

Two-room apt.

flat 1

2r+k

26 m²

425 €/mo.

Studio

flat 2

1r+k

42.5 m²

674 €/mo.

Two-room apt.

flat 3

2r+k

28 m²

458 €/mo.

Studio

flat 4

1r+k

26.5 m²

433 €/mo.

Studio

flat 5

1r+k

25.5 m²

421 - 429 €/mo.

Studio

flats 6,14, 23, 30, 38, 46

1r+k

28.5 m²

470 - 478 €/mo.

Studio

flats 7, 15, 23, 31, 39, 47

1r+k

29 m²

479 - 507 €/mo.

Studio

flats 8, 16, 24, 32, 40, 48, 56, 64, 72, 80, 88, 96, 104, 112

1r+k

26.5 m²

437- 464 €/mo.

Studio

flats 9, 17, 25, 33, 41, 49, 57, 65, 73, 81, 89, 97, 105, 113

1r+k

26.5 m²

437 - 464 €/mo.

Studio

flats 10, 18, 26, 34, 42, 50, 58, 66, 74, 82, 90, 98, 106, 114

1r+k

25 m²

425 - 437 €/mo.

Studio

flats 54, 62, 70, 78, 86, 94, 102, 110

1r+k

43 m²

689 - 730 €/mo.

Two-room apt.

flats 11, 19, 27, 35, 43, 51, 59, 67, 75, 83, 91, 99, 107, 115

2r+k

28 m²

462 - 471 €/mo.

Studio

flats 12, 20, 28, 36, 44, 52

1r+k

28 m²

476 - 490 €/mo.

Studio

flats 60, 68, 76, 84, 92, 100, 108, 116

1r+k

26.5 m²

437 - 4446 €/mo.

Studio

flats 13, 21, 29, 37, 45, 53

1r+k

26.5 m²

450 - 460 €/mo.

Studio

flats 61, 69, 77, 85, 93, 101, 109, 117

1r+k
Service company contact information:
Jyväskylän HuoltoSilta Oy
Hämeenpohjantie 13
40520 JYVÄSKYLÄ
tel. +358 400 917 722
After 4 pm and during weekends tel. +358 207 351 610